The Spin Doctor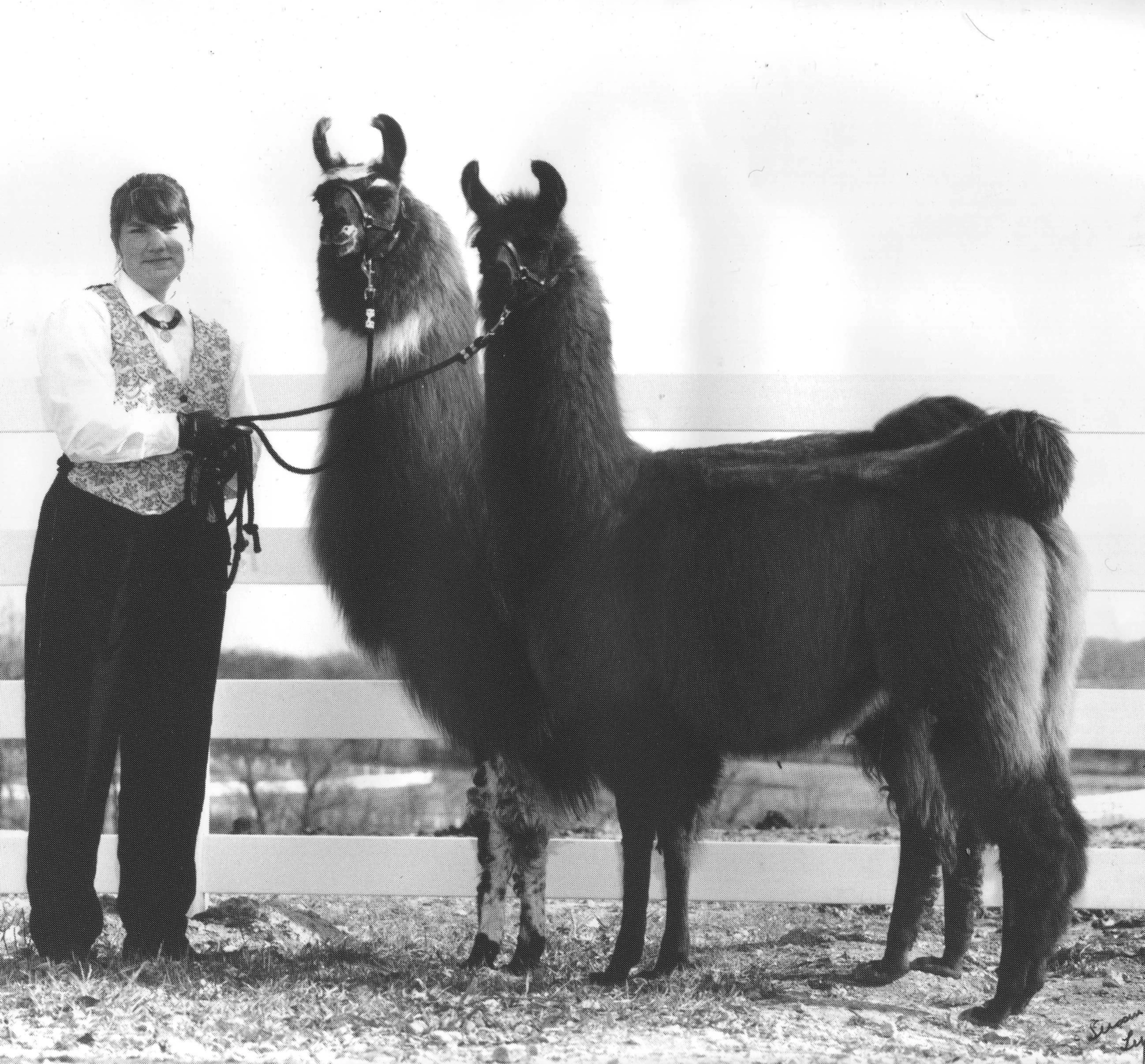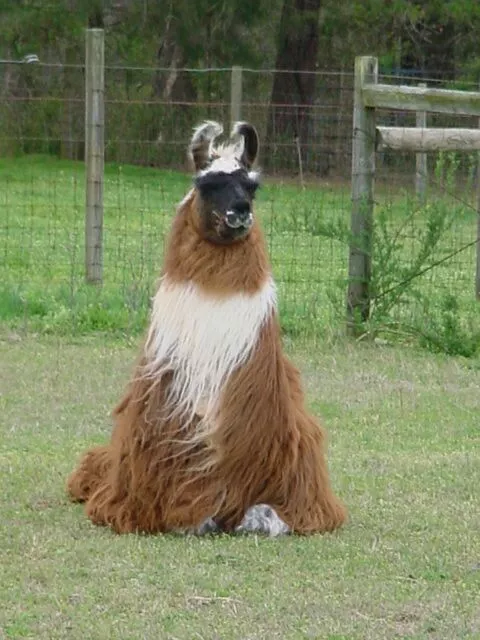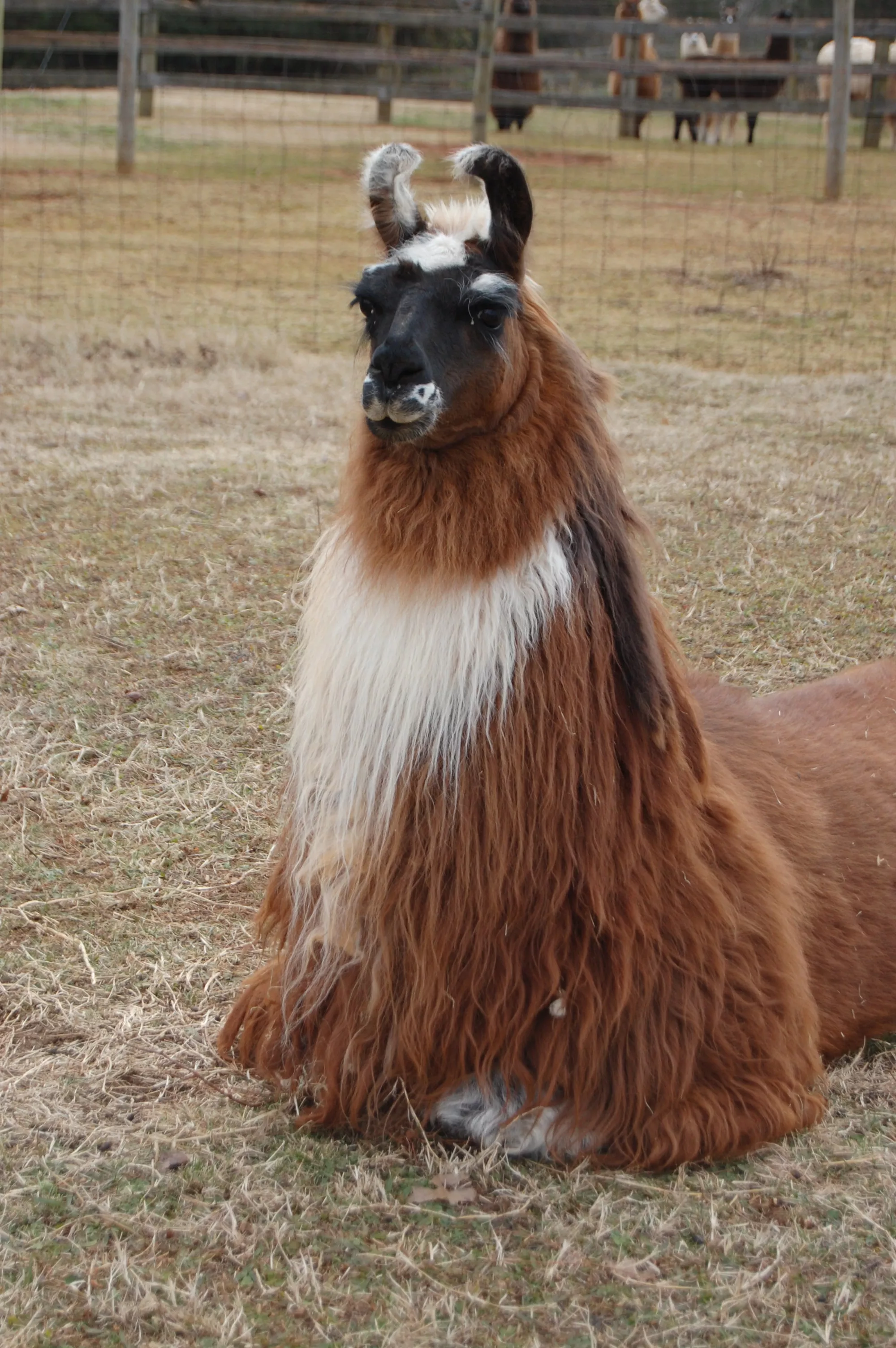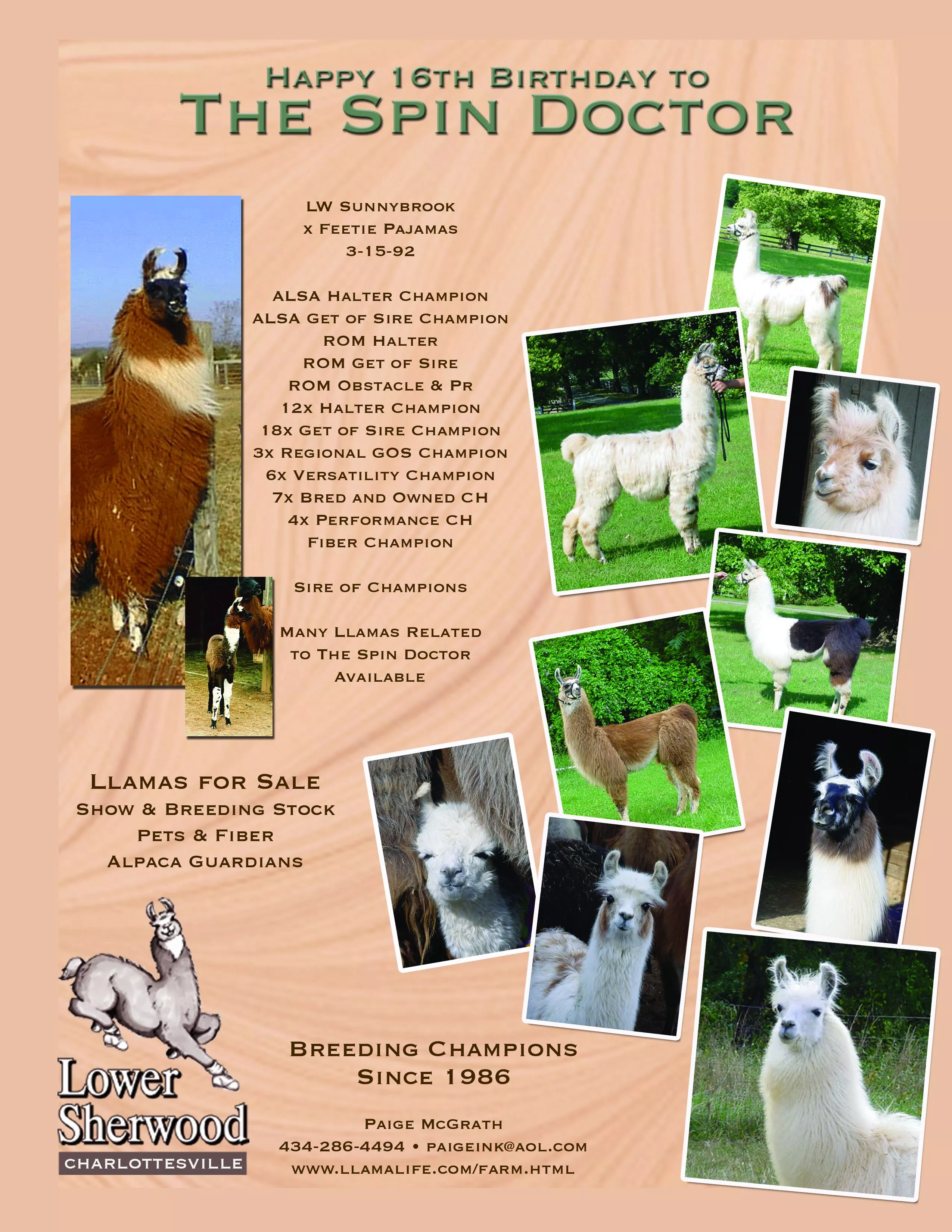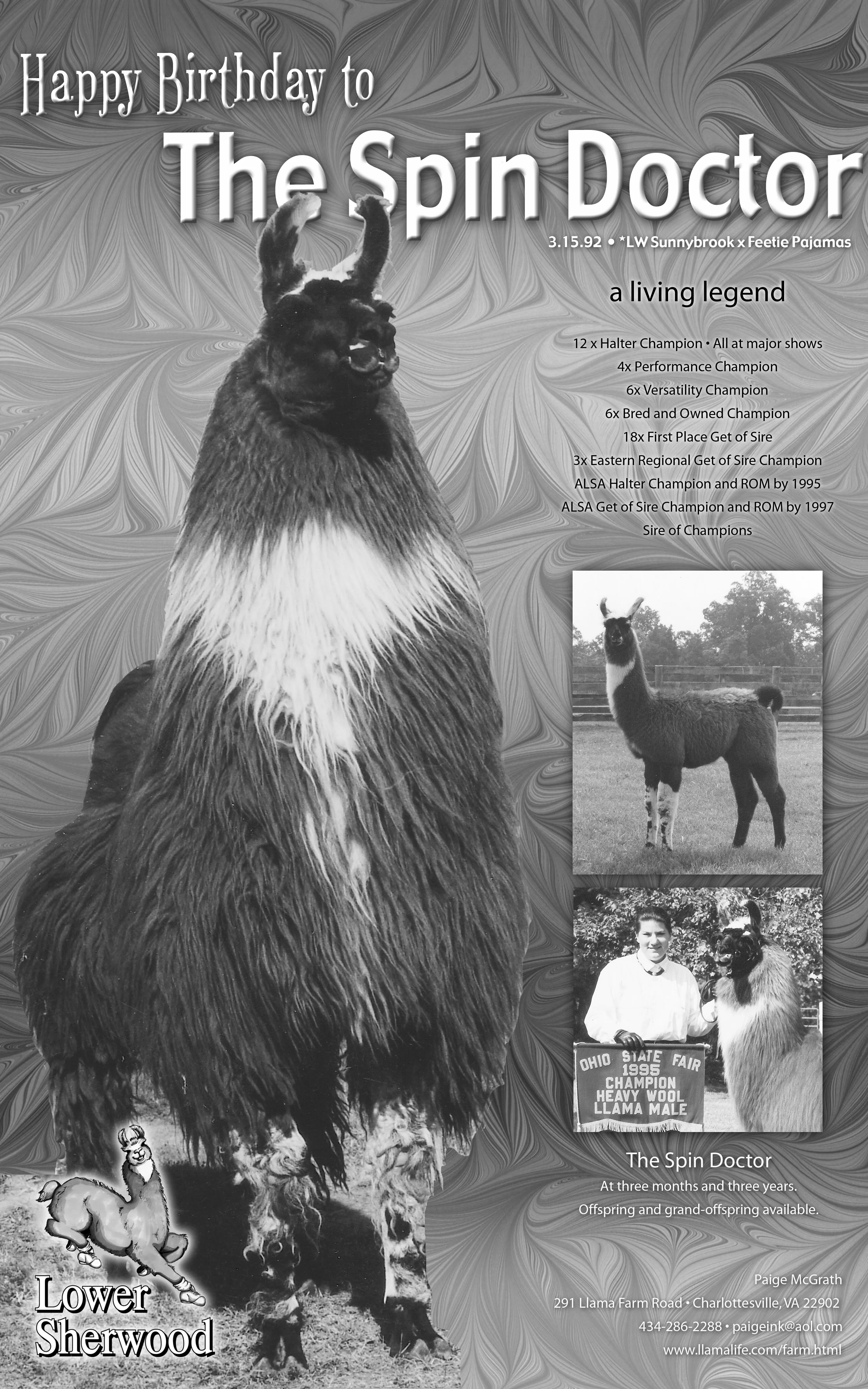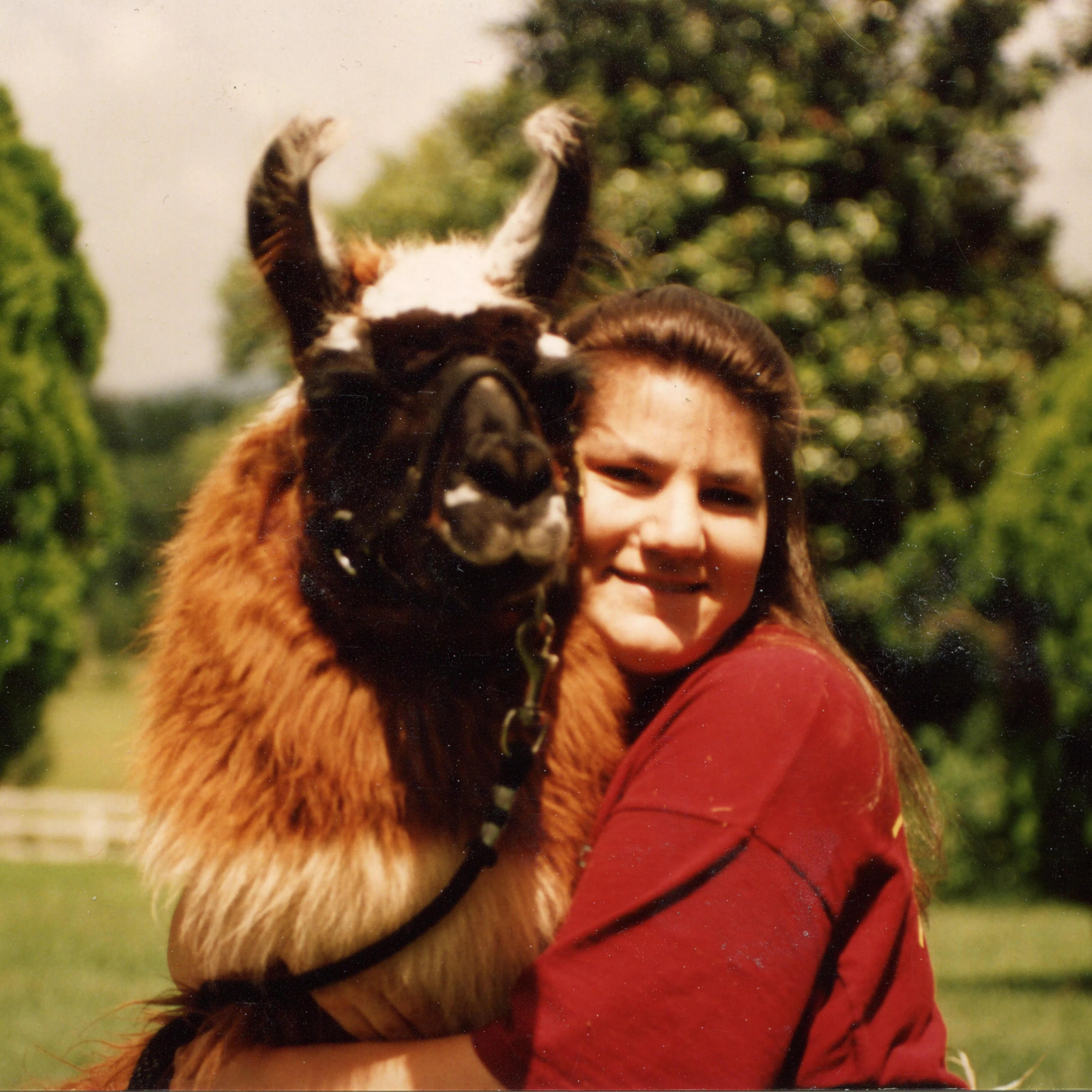 Back in 2003, Paige wrote this piece about her favorite llama, The Spin Doctor.
"The Spin Doctor was born on March 15, 1992 and was bred by Lower Sherwood Farm. This stunning half-Bolivian has an outstanding disposition, and is a well-rounded Champion. Not only has he achieved National recognition for his athletic conformation, he has also competed exceptionally well in both performance and fiber classes. He is the son of our Bolivian Sire *LW Sunnybrook and our Certified ALSA Champion Dam Feetie Pajamas.
The Spin Doctor has over 50 babies on the ground and is producing one beauty after another. Some of his Champion Offspring include:
Spinning Jenny McGrath (2 champions, 4 reserves) ALSA ROM
Unspun Hero McGrath (2 champions, 2 reserves, Eastern Regional Champion 1998, Reserve 1999) ALSA ROM
Spin Fresh McGrath (2 champions 4 reserves) ALSA ROM
Clothespin McGrath (2 champions, 1 reserve) ALSA ROM
Spun-bonnet McGrath (2 champions, Eastern Regional Champion 2000, 2002 Top Five) ALSA ROM
Spun Sun McGrath (1 champion, 2 reserve, 2002 Eastern Regional Res. Champion, 2000 & 2001 Top Five) ALSA ROM
Spintastic McGrath (1 reserve)
Sundown Incatan Eagle (1 reserve)
Spin City Fox McGrath (1 reserve)
Aspin Glow McGrath (1 reserve, Grand National Top Ten 2001)
Other offspring placing in the top two include: Spinach McGrath, Spin Echo McGrath, Tail Spin McGrath, Spinner's Choice McGrath, Dante Spinotti McGrath, Annabell's Striking Image, PHL Mia Cara, Phantom of Toms Brook and Spindrift McGrath.
The Spin Doctor is happily standing at stud at Lower Sherwood Farm where he knows his job and does it well. eMail Paige if you're interested in breeding your females to this highly talented and intelligent llama."
The Spin Doctor passed away in October of 2011. In issue 99 of Llama Life II, Paige wrote in her editorial:
"But, October 2 completely knocked the wind out my sails. I lost my beautiful baby. The Spin Doctor was amazing from the very start. He arrived March 15, 1992, early in the morning, unwitnessed and without a fuss. We found him prancing around, up, dry and nursing, independent and smart as a whip. You just knew he was something special.
He won his first championship at 18 months and from that point on he was virtually untouched in the ring. He was named champion at state fairs from New York to Florida. Including two championships at the Ohio State Fair back in the day where there were more than 300 llamas entered. By 1995 he was one of ALSA's first Halter Champions and ROM earners. The following year, he achieved his ALSA Get of Sire Champion and ROM titles. His get won more than 25 blue ribbons representing him in addition to being selected champions themselves. He also one multiple versatility, performance and fiber championships. By the time he retired from the showring, he was one performance championship shy of Elite.
But most of all, he won the hearts of everyone who met him. His endearing disposition was second to none. He was my buddy and we went everywhere together - happily climbing into the mini-van to ride shotgun.
He had grace, beauty, athleticism, intelligence and a sense of humor. He was gentle, stoic and proud. He inherited the best of both parents. The Spin Doctor departed just as he arrived. Early in the morning, quietly and on his own terms. He was an exceptional being and the best llama we ever bred. I am forever grateful he was part of my life and that he stayed with me for so long."
Show Results
Grand champion awardedin Bred & Owned Male class
Reserve grand champion awarded
1993 Virginia State Fair
Grand champion awardedin Bred and Owned Male class
Grand champion awardedin Versatility class
1994 Virginia State Fair
Reserve grand champion awarded
1994 Ohio State Fair
Reserve grand champion awarded
1994 Florida State Fair
Grand champion awarded
1995 Ohio State Fair
Grand champion awarded
Grand champion awardedin Bred & Owned Male class
1995 Virginia State Fair
Grand champion awarded
Reserve grand champion awardedin Versatility class
Grand champion awarded
1995 Shenandoah Showcase
Grand champion awardedin ALSA Performance class
Reserve grand champion awarded
1996 Florida State Fair
Reserve grand champion awarded
1996 Eastern Regional Championships
Grand champion awardedin Bred & Owned Male class
Grand champion awardedin Versatility class
1996 Shenandoah Showcase
First awardedin Jackpot Obstacle class
1996 LAMAS Conference
First awardedin Get-of-Sire class
1997 North Carolina Mountain State Fair
Third awardedin Get-of-Sire class
1997 Eastern regionals
Second awardedin Get-of-Sire class
Grand champion awardedin Bred & Owned Male class
Grand champion awardedin Versatility class
1997 Shenandoah Showcase
Reserve grand champion awarded
Grand champion awardedin Heavy Wool, Male class
1998 Eastern Regional Championships
Reserve grand champion awardedin Versatility class
Third awardedin Get-of-Sire class
1998 Shenandoah Showcase
First awardedin Get-of-Sire class
1998 Great Frederick Fair
First awardedin Get-of-Sire class
1999 Eastern Regionals
Second awardedin Get-of-Sire class
1999 Montgomery County Showcase
First awardedin Get-of-Sire class
1999 Shenandoah Showcase
First awardedin Get-of-Sire class
1999 Virginia State Fair
First awardedin Get-of-Sire class
1999 Frederick County Fair
Reserve grand champion awardedin ALSA Performance class
2000 Northeast llamas Showcase
Sixth awardedin Get-of-Sire (26 entries) class
2000 Northeast Showcase
First awardedin Get-of-Sire class
2000 Old Dominion Gold Cup
First awardedin Get-of-Sire class
2000 Virginia State Fair
First awardedin Get-of-Sire class
2000 Eastern Regionals
First awardedin Get-of-Sire class
2000 Montgomery County Fair
Second awardedin Get-of-Sire class
2001 Old Dominion Gold Cup
First awardedin Get-of-Sire class
2001 Montgomery County Fair
First awardedin Get-of-Sire class
2001 Virginia State Fair
First awardedin Get-of-Sire class
2001 Eastern Regionals
Grand champion awardedin Performance class
2002 Virginia State Fair
Second awardedin Get-of-Sire class
2002 Virginia State Fair
Offspring
TAIL SPIN McGRATH
Spinnaker
DOCTOR QUINN MCGRATH
Clothespin
SPIN-UP GIRL MCGRATH
Spun Sun McGrath
Spin Lizzie
Spin Lizzie
Spinach
Spinning Jenny
Spinafore
Read more
LOR CINNAMON TWIST
SHE'S COME UNSPUN MCGRATH
Dante
SPIN FRESH MCGRATH
Original Spin
UPTON SPINCLAIR MCGRATH